Following up on the success of their annual Easter egg hunts, Scooter Girl Toys this year launched their very first Pirate Treasure Hunt on October 10 and in so doing, gave scores of families (and loyal customers) a chance to discover the neighbourhood—and maybe even work-off a bit of their Thanksgiving dinner—over what turned out to be a lovely long weekend.
Each crew was given some Scooter Girl buttons or maybe a Scooter Girl tattoo, but most importantly they were given a map carefully marked with the location of a number of neighbourhood treasures and other oddities. It was then their job to match one of a series of clues to each location and answer the riddle hidden there.
I developed the hunt and created the handout, using artwork and the Scooter Girl style developed by Claudia Davila. In addition, as the hunt progressed, it quickly became my job to start dropping some hints on the Scooter Girl Facebook page and spur the participants on.
Now, it has been my experience that these sort of treasure hunts can be rather ephemeral things: treasures get moved or torn down, and a clue that made perfect sense a few months ago may very well have been paved over by now. Nevertheless, if you'd like to try your luck with Scooter Girl's first Pirate Treasure Hunt, future readers, you can still download the map here.
Or if you just want the answers…
They are hidden below. Just click the empty circles to reveal each secret . . . and the nefarious thought process behind it.
A. When tired of toys, this little girl likes to take this for a whirl.
Scooter Girl Toys is located at 187 Roncesvalles Avenue, just north of Fern—but then you probably already knew that. And you probably already knew the answer to this riddle anyway, since we had already filled it out on your treasure map.
B. Once a bank at R & D, they now serve this to Mom (not me).

A former branch of the Bank of Montreal at the intersection of Roncesvalles and Dundas West now serves Seattle's finest blends.
C. The Pope is bronze, as you can see, but what's the colour of his P?

St. Stanislaus-St. Casimir's Polish Parishes Credit Union has been serving the Polish community here since 1945. A statue of Pope John Paul II stands outside their main office, across the street from Scooter Girl, on the corner of Roncesvalles and Fern. The parking lot behind Wujek is marked with a large red P.
D. Their wares are hard, except the floor. You'll find that at their shop next door.

Pollocks Home Hardware (no apostrophe) has been serving the Roncesvalles community for over 85 years from their store at 347 Roncesvalles. Pollock's Flooring—which is actually owned by someone else entirely—has been located next door since 1975.
E. Howard J. could tell some yarns of what he's seen drive through those barns.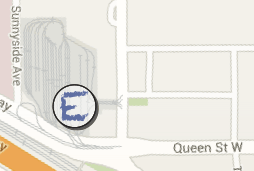 The Howard Johnson Inn, formerly the Edgewater Hotel, was built in 1939 nearby the corner of Roncesvalles and King, and for all those years has had a pretty good view of the TTC's streetcar barns to the west.
F. This clever designer in the last part of College built a three-sided house with all of his knowledge.

Rohan Walter actually designed Triangle House in 1996, some time after he had already obtained his degree in architecture from the University of Waterloo. The house, located in the final block of College Street just west of Lansdowne, now serves as his home and office.
G. Think taking shortcuts can't be fun? Ask this Mr. Crosland to show you one.

The Albert Crosland Parkette, with its playground and basketball court, also serves as an excellent shortcut between Saunders Avenue, east of Sorauren, and Fuller Avenue just north of Queen. The park was built in the late 1970s on the site of a derelict warehouse and was renamed to honour Mr. Crosland in the summer of 1980. Albert Crosland was a long-time resident of Rideau Avenue, in a house that had long been his father's grocery store, and was actively involved in the Parkdale community until his death in 1979.
H. The trail goes around this mound; but what might you find here underground?

Just west of Indian Road, Indian Trail does indeed swing around a lovely little parkette with the delightfully pastoral name of Indian Mound Traffic Island. Although there is certainly no noticeable mound, Indian mounds were traditionally built for rituals and to bury the dead.
I. In fourteen hundred ninety-two, some guy sailed the ocean blue. But to whom is his park's danger due?

Although Christopher Columbus may not be taught in school as much as he once was, children of certain age cannot forget the rhyme they once used to remember the date of his infamous journey. And although there's every chance this parkette on Dundas just west of Sorauren was named after a completely different Columbus, the entire point here was to get you to where you could admire the massive graffiti gallery created this past April in the surrounding alleys. The event was organized by Wallnoize and featured twenty different artists, including a local vandalist named Random, who painted his enormous Danger-Due-To label on one of the garage doors right next to the park.
J. I would not want this near my home. I'm plenty frightened by his bones.

What surely must be a rather whimsical family living on Indian Road just north of High Park Boulevard has assembled and mounted a rather large—but thankfully not life-sized—jigsaw dinosaur skeleton in their side yard. I don't know why, but I'm sure glad they did.
K. One block north from Dundas measure. There's gold here, and what other treasure?

Golden Avenue runs off Dundas and intersects with Silver Avenue just one block north. One block further, and you'd find nothing but railroad iron.
L. This camel leopard won't grow higher unless he finds a lot more buyers.

The species name camelopardalis is derived from this strange combination of animals that giraffes were once thought to resemble, and an even stranger name for the failed condominium development that still boldly wears its spots at the corner of Dundas and Bloor.
M. A school named for its street is good, But Seaforth School's named for the 'hood.

Our neighbourhood is home to schools named after Garden Avenue, Fern, and Howard Park. There is no Seaforth School, of course, but there is a school on Seaforth Avenue, and it's name is Parkdale.
N. If true wisdom is what you seek, then follow this tale in the original Greek.

Homer's tale of The Odyssey was originally told and eventually written down in Greek. It also gives its name to the Montessori school located within the Greek Orthodox Cathedral on the corner of Sorauren Avenue and Galley.
---
UPDATE: In 2015, the Scooter Girls decided to see if they couldn't turn their first Thanksgiving hunt into a annual tradition, and so moved things a little further west to include more clues among the lovely Fall colours of High Park.
Here is the map, if you want to want to test your treasure-hunting chops for next year's hunt.
And here's the solution.